If you're wondering how it works to build a home instead of buying a resale, you are not alone! We get that question all the time. Essentially there are 4 phases.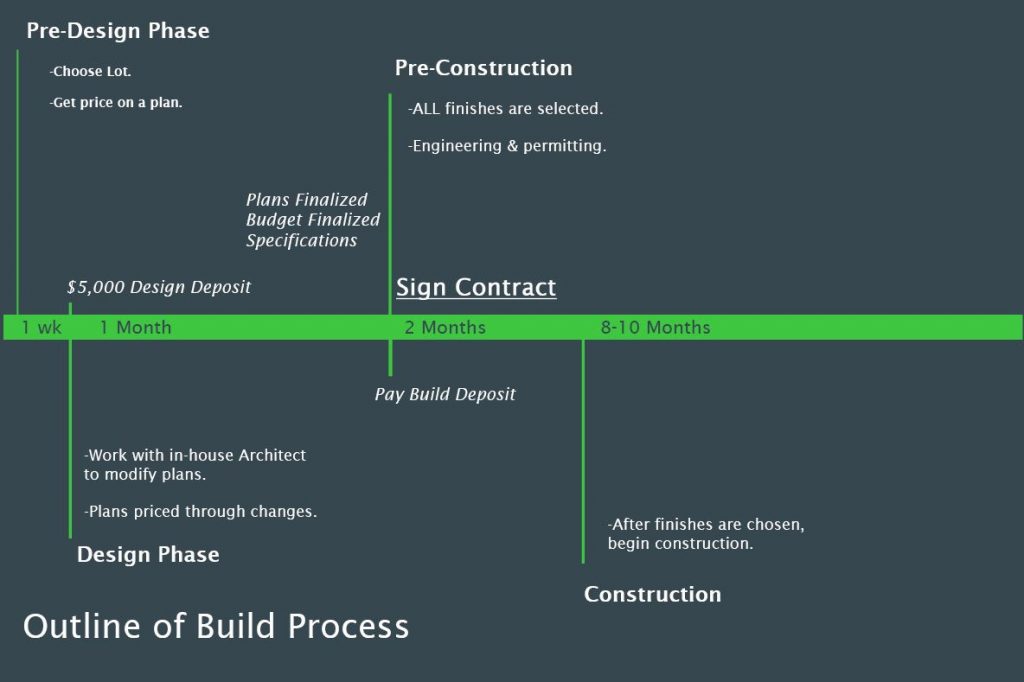 Pre-Design
At this initial stage we find a lot you like, we can build on any lot and not just our own (as long as its in our area). With that lot in mind, we help you choose a floor plan. We can use plans we have, or we can look online or even start from scratch and design from the ground up. Pre-Design is about finding a lot and a plan that approximates what you want, so that we can put some initial pricing together to be sure we are in the ballpark of your expectations.
If everything looks good then we collect a $5,000 design deposit to initiate the design phase. The design deposit is basically a retainer. If for some reason during the design phase you need to stop the process and walk away, then we are able to collect from that $5,000 a reasonable amount that corresponds with the amount of time our architect has spent on your plans.
Design Phase
The Design Phase is where we take that base plan and we modify to get you exactly what you want and in your budget. This typically takes 1-2 months as we go back and forth with the design. Sam is our in-house architect and he will be using Revit, a professional design program to get your plans exactly how you want them and to fit your budget. This stage ends when we have the plans finished and the cost to build finalized with your approval.
Pre-Construction
Now we sign a contract to build your home for you. That means we have you sign the plans, the build budget, as well as a list of specifications for your new home. Typically we use a fixed price contract so that everything except for some finishes allowances are locked in and cannot exceed projections. Once the contract is signed we send your plans to the engineers to have them design the structural and truss components of your home. Then those engineered plans go to the municipality for permit.
While your plans are being engineered and getting permitted, we send you to several showrooms and suppliers to select the final finishes for your home. That includes everything from flooring to counter-tops, and appliances to paint colors. It is important that you finalize your selections before we move into the next phase.
Construction
The construction stage begins when we break ground and start your foundation. Typically this takes about 8-10 months. While we build your home you will be welcome to walk-thru after hours and see the new developments as they happen. We will have designated walk-thrus with your Project Manager at various times during construction. This will give you the chance to officially approve of the progress and move from one construction phase to another.
---